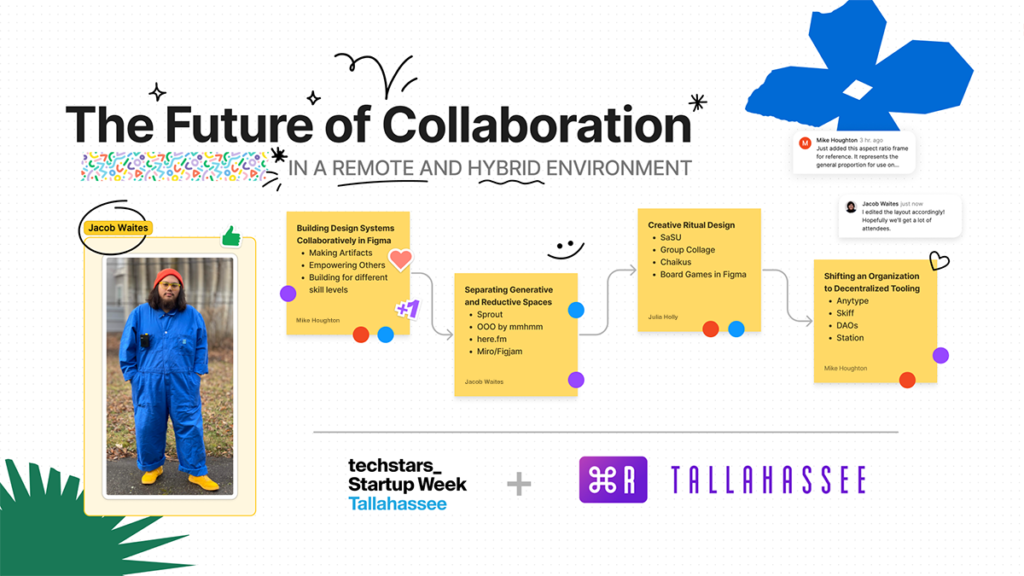 Working with others in remote and and hybrid environments has become the new normal for design and development, but putting together processes and tools to make this work is easier said than done. We've partnered with Startup Week Tallahassee to host Jacob Waites in a virtual discussion about how to collaborate more effectively. Among the topics for discussion are building design systems collaboratively, separating generative and reductive spaces, creative ritual design, and shifting an organization to decentralized tooling.
About Jacob Waites
Jacob is a visual and interaction designer who has worked with IDEO and Adobe (among others) to craft brand and product experiences with stories around them. He seeks to make others successful through experimentation with new technologies.
About Startup Week Tallahassee
Startup Week Tallahassee celebrates entrepreneurship and startups in our community. The week features innovative speakers and thought-provoking events with people who share a kindred entrepreneurial spirit. Startup Week Tallahassee 2022 takes place Nov. 14th – Nov. 18th at three locations and will cover 12+ tracks focused on different industries.
Details
Thursday, November 17, 2022, 1:30 – 2:30 PM
This is a hybrid event. We'd love to connect in person, but if you're not able to make it to the Challenger Learning Center, we'll stream the event remotely via Facebook & YouTube (links to come the week of the event).

Challenger Learning Cetner
200 S Duval Street
Tallahassee, FL 32301
Please RSVP on our Meetup page if you plan to attend.
This event is free, courtesy of Startup Week Tallahassee. Thanks!