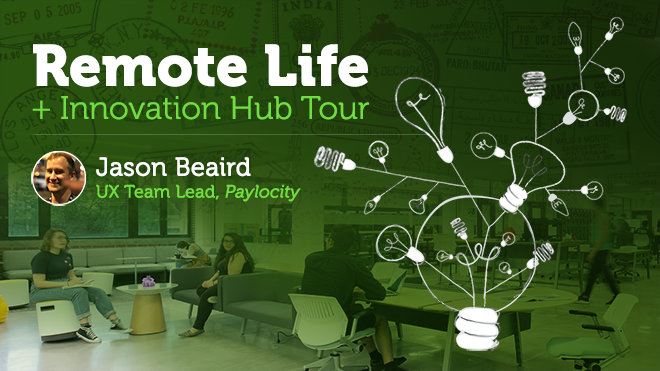 Are you curious about what it's like to work remotely? It continues to be a growing trend in our industry with no sign of slowing down. For our first meetup of 2020, we're hosting a discussion at FSU's Innovation Hub with Jason Beaird about his experience with remote life. He'll dive into some of the most common questions and biggest misconceptions about what it's like to work from home as a UX designer or developer. As a visceral bonus, Jason will be presenting by video conference from his home office in Orlando.
About Jason
Jason works remotely from Orlando as a UX Team Lead with Paylocity. As an experienced "player-coach," he has worn the hats of product manager, designer, front-end developer, and user researcher. A few of his more well-known efforts include conceiving and evolving The MailChimp Pattern Library and writing The Principles of Beautiful Web Design. He also helps organize Orlando's Downtown UX Meetup. Learn more about Jason on LinkedIn.
About FSU's Innovation Hub
The Innovation Hub at FSU was built to foster a collaborative community founded on a culture of creativity and innovation that identifies issues, explores opportunities, and develops solutions using design thinking and emerging technologies. Located at the heart of FSU's campus, the Hub includes a Digital Fablab, VR Lab, Design Lab, and a variety of collaboration spaces designed to support face-to-face interactive co-creation, design thinking-style, and remote collaboration using online tools.
Details
When: Friday, February 21, 2020, 6:00 – 8:30 PM
Where: FSU Innovation Hub (Florida State University, Louis Shores building, 142 Collegiate Loop, Tallahassee, FL 32304).
Parking: The closest parking is in the Traditions Way Garage and is free use for all after 4:30. When driving to The Hub, enter campus from Jefferson Street by the Sweet Shop. Don't attempt to get to The Hub entering campus from Tennessee Street. You'll get lost in one way and restricted streets.
RSVP: Please RSVP on our Meetup page if you plan to attend.
Donate
There's no charge for the event, but donations are appreciated. Thanks!