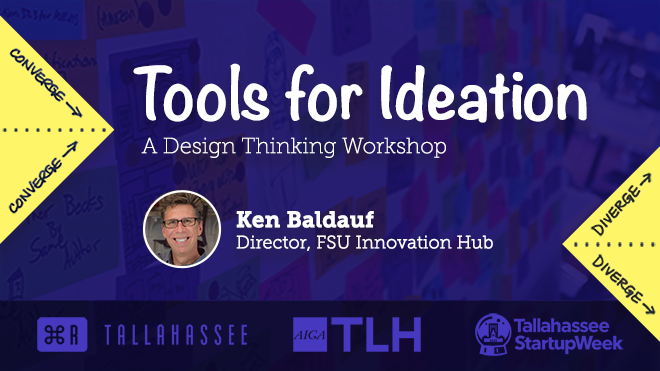 Design Thinking is the core problem-solving framework used by a wide variety of organizations around the world. The tools used in Design Thinking provide value to professionals who desire deeper insights, innovative ideas, and iteratively-refined solutions in any industry. In the realm of Design Thinking, everyone is a designer, no problem is too small (or too large), and this event is for anyone interested in learning this powerful approach to problem solving.
Tools for Ideation
In conjunction with Startup Week Tallahassee, we've partnered with AIGA Tallahassee to host Ken Baldauf, Director of FSU's Innovation Hub to lead a 90-minute workshop providing hands-on experiences with some of the most powerful tools for ideation, including brainstorming, think different, think wrong, affinity mapping, and idea filtering. Come join us as we learn to apply these idea-generating techniques.
About Ken
Ken directs FSU's Innovation Hub which is designed to support students from all disciplines to utilize the latest technologies and Design Thinking to confront the demanding and complex problems of our day. Ken has authored several textbooks, produced a weekly tech news podcast and has worked with Cengage Learning to design an online learning framework for Intro Computer courses. Learn more about Ken on LinkedIn.
More Information
Date: Thursday, November 8, 2018
Time: 4:00 PM – 5:30 PM
Venue: CoLab @ The Pod
Space is limited to 30 attendees. Sign up and register for the workshop at the Tallahassee Startup Week site.