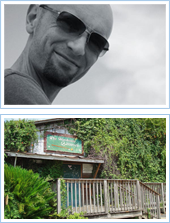 Come enjoy an evening with Jeremy Spinks, as he showcases a recent project from start to finish, covering many design and coding aspects, and learn how this one-man-band pulled it all off. A fitting alternate title for this presentation might be "Launching a new website without making the logo bigger – a guide for aspiring Jacks of all Trades."
Jeremy is a seasoned local design veteran and is currently the VP of Online Design with BowStern Marketing Communications. He also wears hats with Jelly Bean Communications Design and Florida State Universtiy.
When:
Thursday, May 2, 2013
6:30 PM to 8:30 PM
Where:
The Warehouse
706 W. Gaines Street, Tallahassee, FL
Due to construction on Gaines, be prepared for detours. There should be plenty of parking in the back.
Other:
Please RSVP if you plan to attend. Thanks!
Price: $5.00/per person