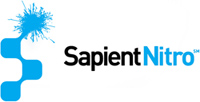 Come join us for another evening of inspiration and insight as we host Rob Milstead and Michael Leonard of Sapient's Atlanta office. The presentation will include a general market overview of what SapientNitro (the customer experience, advertising, and marketing division of Sapient) is seeing and a few case studies detailing what they're doing with digital display and display merchandising.
About our guests…
Rob Milstead is a Director in Sapient's Atlanta office and is responsible for SapientNitro's accounts in the Southeast. Most importantly he is a 'Nole with degrees in music and communication.
Michael Leonard is in charge of the mobile center of excellence for SapientNitro which includes mobile and digital display development for SapientNitro globally. He is based in Atlanta.
Details…
Date and Time: Friday, November 12th, 6:30 – 8:00pm
Location: The Zimmerman Agency
Cost: FREE!
RSVP: http://www.meetup.com/refresh-tallahassee/calendar/15160733/