How to Design Web Apps People Love: An evening with Kevin Hale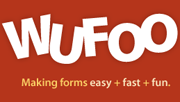 As a part of the Wufoo team, Kevin Hale is no stranger to creating wonderful web apps. In his presentation, Kevin will be showing how to focus on user interaction in order to create an experience that users will love.
UPDATE: Join us from 5:30 on for pre-meeting cocktails at Versailles (located next to 101 Restaurant & Lounge, directly across from the Challenger Learning Center).
Thursday, May 27th
7:00 – 8:30 PM
The Challenger Learning Center
200 South Duval Street
Tallahassee, FL 32301
Cost: FREE
About Our Speaker:
Kevin Hale is the co-founder of Infinity Box, Inc., a company seeded by Y Combinator. He is responsible for safe guarding the user experience of the Wufoo application and designing every pixel of its interface. As much as Kevin likes keeping things clean and reliable, he loves innovation. He writes about interface design issues for the web development blog, Particletree and served as editor-in-chief of the web development magazine, Treehouse. As a child, Kevin was the kid in class who ate a box of crayons for a dollar.
And a Word of Appreciation
Special thanks to Alan Hanstein at Paragon New Media and Darren Allen at White Dog Design Group for helping sponsor and coordinate our meeting!
How to Design Web Apps People Love (13.4 MB)