IE8's Beta 2 has done away with the "Emulate IE7" button of the first Beta, and in it's place is "Compatibility View", which is invoked with the broken-document button in the toolbar.

It's interesting to note that when it comes to Intranets, IE8 defaults to this compatibility setting.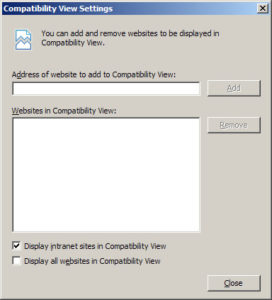 One assumes Microsoft's reasoning behind this is that they believe that the typical Intranets are not usually known as bastions of standards-based web design, and tend to be given the lowest priority in an organization. Has anyone ever worked at a place where you had full Intranet functionality on a non-IE browser? There must be some out there. I know that there are some state colleges in Florida that have banned IE from the workplace – I wonder what their Intranets look like?